There will be no change in any other form of currency exchange be it cheque, DD, payment via credit or debit cards etc: PM Modi

You have 50 days (From 10 Nov to 30 Dec) to deposit notes of Rs 500 & Rs 1000 in any Bank or Post office: PM Modi

you can watch and read more details here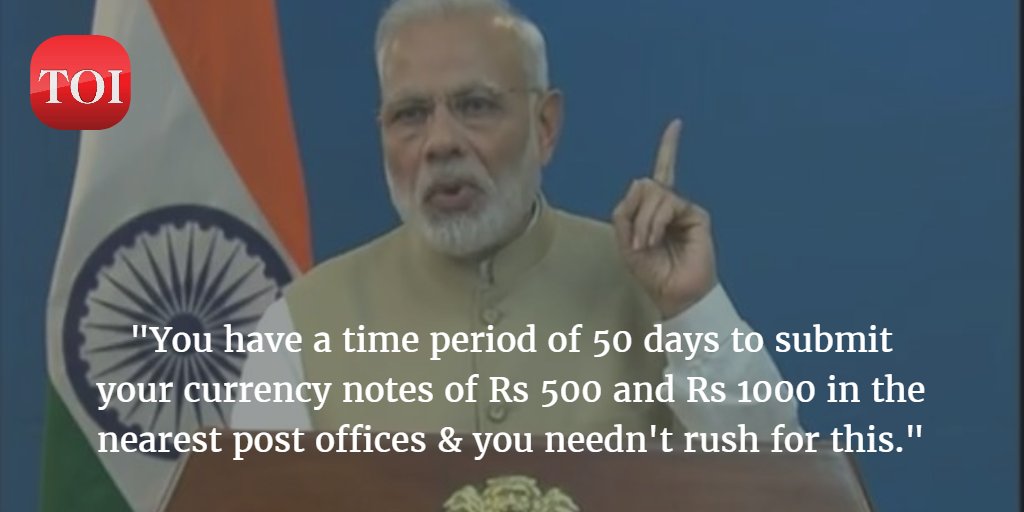 On November 9 and in some places November 10, ATMs will not work: PM Modi

Respite for people for the initial 72 hours, Govt hospitals will accept old Rs 500 and 1000 notes till 11 November midnight: PM Modi



The process of cash circulation is directly related to corruption in our
country impacting the lower classes of our society: PM Modi

After 12 AM tonight, Rs 500 and 1000 currency notes will not remain legal: PM Modi

There is a time when you realize that you have bring some changes in society, and this is our time to feel the same: PM Modi

Corruption and black money is something we have fought for immediately after assuming office: PM Modi

Black money worth Rs 1.25 lakh crore brought back to India: PM Modi

India was earlier 100 on global ranking of corruption. Today it stands at 76th position: PM Modi

Prime Minister Narendra Modi is addressing the nation after a meeting of the Union Cabinet. He said that the government is dedicated to the poor, and will continue to do so. He added that India has registered itself as a bright spot, and its a claim made by IMF and World Bank.